Ivanhoe and his crew of wannabe pirates head into the wilds of Northern Ontario and run afoul of some shady ship builders. The pirates owe the ship builders a significant sum of money for a boat they destroyed, which leads them on a chase across the North and ends in a brawl on a train in the middle of nowhere. When the dust finally settles, Alpha finds himself stranded in the middle of the night hoping for a miracle...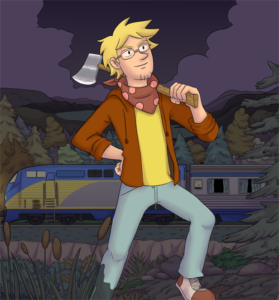 It's finally happening! Alpha of the North is being released this December! The initial release will be a digital download version. I'll be posting it up on Ko-fi, Patreon, and Globalcomix so that people have options. Once the digital version is available, I'll be announcing a pre-order for a print version of the comic to be released in early 2024.
To read a preview of Alpha of the North click here. Use the "older post" link to navigate back through the comic.