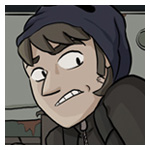 Name: Georgio St. Augustine
Birthday: May 15, 1987
Nationality: Canadian
Hometown: Black River, ON
Personality/About: Ivanhoe considers Georgio his best friend, although they don't always act like it. Georgio is often grouchy and has a hard time unwinding. After Ivanhoe, he is probably closest with Kingston. Georgio sometimes takes advantage of Ivanhoe's friendship and gets out of the worst jobs on the ship regularly.
Georgio's mother died when he was 12 and was raised by his strictly religious father. Like Ivanhoe, Georgio has a younger brother and sister, though they are from his father's second marriage and are much younger than him. He is not on speaking terms with his step-mother. His family is Italian, though they Anglicized their surname when immigrating to Canada. His father's dream is for him to join the seminary and become a Catholic priest. Georgio has a complicated relationship with religion and his strict upbringing is what motivates him to stay with the pirates (though he would never admit it to anyone).
Between the return to Canada after being attacked by Sulphur Tongue and the new mission to India, Georgio's father purchased him a one way ticket to a seminary in Edmonton, Alberta. Georgio did not tell anyone this.