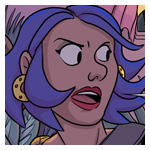 Name: Marina Lopez
Birthday: December 6, 1984
Nationality: American
Hometown: New York, NY
Personality/About: Marina is a career criminal and actually met Ivanhoe in a botched attempt to rob him. Marina was born and raised in the Bronx but her background is Cuban and Puerto Rican. She is fluent in Spanish but everyone can tell she's an American. Like Ivanhoe, Marina has a strained relationship with her family and ran away from home at a young age. In some ways, she sees Ivanhoe as a kindred spirit.